March 8, 2023
6 online lessons cycle for educators has started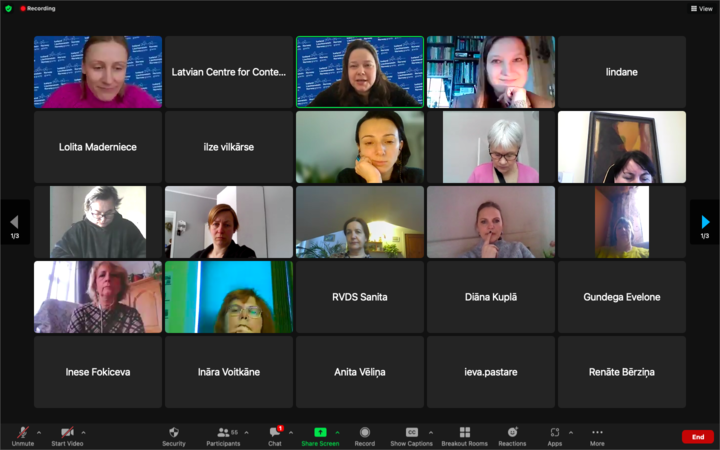 The 6-part series for online educators continues!
On 21 February and 7 March, the first two online teacher training sessions of the project "The Artist is Present – Contemporary Art Residencies in Schools" took place. The project includes not only artist visits to 6 partner schools, but also 6 online seminars aimed specifically at the teaching audience. The aim is to raise teachers' awareness of contemporary art, to judge students' interests and abilities, and ultimately to create a handbook to help teachers when designing lesson content. During the first sessions, the project leaders Māra Žeikare and Lība Bērziņa informed about the activities planned during the project, the progress of the residencies, as well as introduced and reiterated the meaning and manifestations of the term contemporary art.
The next session will take place on 21 March.
During the project, active cooperation with teachers from the participating schools and other interested parties is foreseen.
Participating schools:
– Anda Lāce – Antūži Primary School, Jēkabpils region
– Gundega Evelone – Riga Bolderāja New Primary School, Riga
– Vika Eksta – Aglona Secondary School, Preili region
– Kristīne Brīniņa – Liepāja Catholic Primary School / Liepāja Secondary School No 15 of Oskaras Kalpaka, Liepāja
– Eva Vevere – Jelgava Spīdolas State Gymnasium, Jelgava
– Artūrs Punte and Maksims Šenteļevs – Strenči Primary School, Valmiera region
! Unfortunately it is no longer possible to register for the workshops online, but stay tuned to our website where video recordings of these events will be posted for you to watch at your convenience.